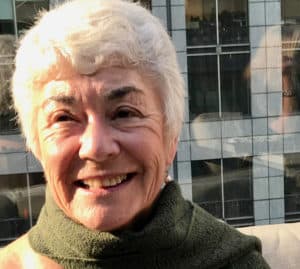 About Amba
Amba Gale has been creating potent transformational conversations for over forty years, conversations which allow for people to create completion and healing in their lives, awaken to a new spirit of awareness, wakefulness, consciousness, listening, joy, gratitude, and wonder, and to generate accomplishments across the board in their lives. Through interactive conversations, both one and one and in group settings, through readings, including poetry, based in current and ancient wisdom, she invites people to come into a new profound connection with themselves, with others, where they "listen" to life newly, allowing them to live a meaningful life well lived and to make a difference in the lives of others.
We human beings seem to have an addiction to certainty, to staying with what is familiar because it is safe, with what is predicable, controllable, certain. We are resistant to change, and yet, sometimes in life, we come to those special times of threshold crossings inwhich accepting a change of what is occurring externally while crossing inside a threshold within is just what is called for.
Our lives are not really one continuum, if we truly examine ourselves and notice our development, but ongoing small deaths and rebirths, if we are, indeed, committed to growing. Who we were in one iteration of our lives is not the same in the next. Once we cross that threshold into our next new life, we see the world with new eyes. And new perception means new possibilities new horizons, new opportunities, new presence, and new futures.
Crossing Thresholds is a transformative journaling guide. You can also make the journey through reflection, through thinking, through your imagination, through dialogue with another, through any form of creativity, as well as through writing.
It is my deepest intention that this book of poems, of photographs, and reflections, accompany you as a loving and wise companion, as you take your own threshold crossings. When those times in life beckon us, it is good to simply stop, reflect, and receive the teachings that are knocking at our door, asking to be let in.
The Poems of Part I are intended to create a path for you to come to a deeper place of Stillness within yourself, from which you can tap into your own inner Wisdom, your Creativity, your Imagination, and your commitment to journeying into new lands. The Poems of Part II are poems that came out of my own journey of parenting, of letting go of a certain way of parenting my daughter, and a coming into an acceptance and profound appreciation. for who she is as herself. The Poems of Part III contain poems of further teaching, acknowledgement of others, and of meaning—wisdom I have received from the landscape of human conversation, and the landscape of the Island, that I invite you to enter into, whose land I invite you to inhabit, whose joys and griefs, losses and peace give you access to your own space, your own journey.
Blessing for the Beginning of Our Journey Together
May the heart-breath in these poems
spirit your life
through its many journeys
to its own promised islands.
May you arrive at each inner island
as an adventurer,
an experimenter,
an explorer,
curious, fresh,
and ready to travel deep
into your own depths.
May you go
in accord
with your own essential nature.
May you listen with your heart.
May any heart breaks that are yours
be entered fully,
that you may receive and embrace
their lessons.
May each of your islands
welcome you with insights
and sometimes disturbing questions
that open up new territory
for you to think new thoughts.
May you be open to surprises.
May your own wisdom be a ferryman
whose boat takes you
to your next crossing
only
after you receive
the Teaching of each Island.
May you weather the rough crossings,
where the frigid wind howls and the waves grow high,
with Faith,
a great sense of not knowing,
of exploration,
of Beginning,
and a largess of spirit
that holds
your coming deaths,
 births,
      and arrivals
              with love.

Reflective Journaling
Give yourself this gift to feed your Soul:
  Writing time where writing can lead
   to your own deep and hidden thoughts.
Let them come to you unbidden
   and find you as your words take shape on page.
Step aside your critic.
Let someone else write.
Let your intuition speak
from the silent corners of your heart,
transporting you to somewhere new,
Somewhere you have never been before.
Open a new door:
You are hungry for your words.
Allow yourself to be romanced
by something larger than yourself.
That's what we're all here for.

Where Lake Becomes Sky
Early evening:
not a breeze in this world.
Not a whiff of the wind.
Sun sets
behind the jack pine, spruce, and birch.
In water stillness,
Lake becomes Sky.
This is the beauty
of Tobin Harbor truth.
Your boat glides, easily
cutting through still waters;
barely a sound.
Deep green trees sweep by
in the water.
Lake becomes Land,
mirror for the clouds and trees,
gray and blue and green, perfect
reflection of the world,
as the whole world envelops you
in its stillness.
Here, it is easy to see
The Whole.
When inner storms churn
  and waves
    beat
      relentlessly
at your shores,
  stirring
    your waters, fragmenting
      your ground,
may Sky reflect in you, as well.
May you find your Lake within,
filling you
with Silence.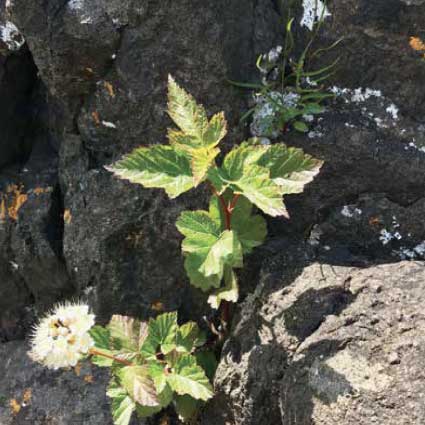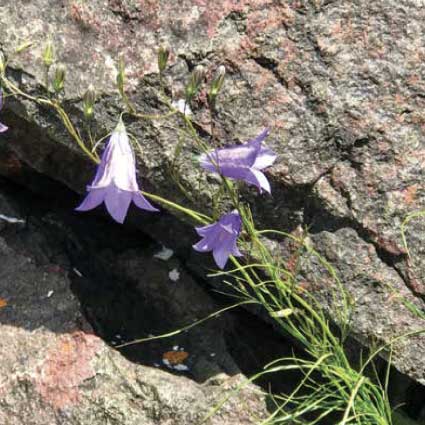 Come to Me, My Island
Come to me, my Island,
in all your rugged beauty:
your white, rare Indian pipe,
your purple, tiny flowers growing
in the impossible crack
of orange lichen-filled rock,
hard rock, the crust of the earth,
thrust visibly out from the shore.
Lava molten, with fissure and bubble,
filled with colored gemstones.
Come to me, my Island,
with your deep, deep rest,
where, merging with the ripe
and wild spirit of all Wonder,
you give a nest of peace.
Come to me, loon call.
Like out of some mysterious other land of mourning,
you soar into heart.
The ever-present white sparrow sings.
Magnificent, each morning.
Crackling fire, sensory feast,
in the cabin we hold dear.
Come to me,
be near to me,
as I saunter through my days
in morning haze
and evening's glow
and night fall's star-stud shimmering.
The sunbaked dock,
mergansers grace
the gray -white rock.
And green lake days
and old maid's face
on cliff edge steep
in North shore pace
where water's deep
and water's clear
each moment, dear . . .
Come to me,
in jack pine and birch bark,
moose leavings on the trail,
and in Great Lodge of Beaver
this year
grows fresh sprigs of green.
Come to me.
Let
your pure
Pristine
Improbable
Place
in my life
Grow into me.
Come to me.
For Giving Endings
When the wild waves beat
at your shore, and in your heart, when
night lightning strikes
at your feet,
and makes a day shine from the night-darkened
porch, when
thunder drum shakes the wooden floor,
and you stumble, not seeing, as the wind
blows open all the windows, all the doors,
sweeping your house clean,
you may tumble,
you lose your hold on earth.
Know this in your heart, and let it chime the bell:
"All manner of thing shall be well."
Breathe in deep, and give it all
the space to be a part
Of Ending,
      of Beginning,
               and of Entrance
                        to new Start.
Excerpt from "For Giving Endings"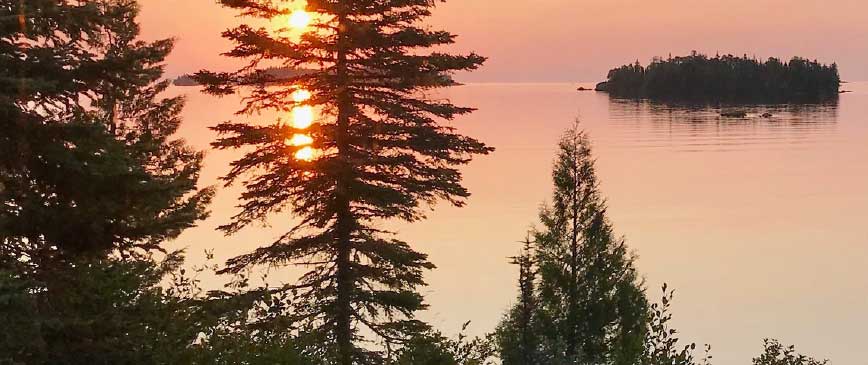 Questions to Reflect Upon:
What is the ending in your life that it is now time for?
What are the teachings that live within this ending?
Ask this question, not to get an answer, but to let the questions "use you" work with you, bring you to a new light of awareness. It is a very powerful question. Live with this question for a while.
The Bridge Speaks
Do not despair.
For nature has a way
of wearing new clothes as days and seasons pass. And even
artifacts of man
(and man as well)
must go, with the tide, when it is their time.
Excerpt from "The Bridge Speaks"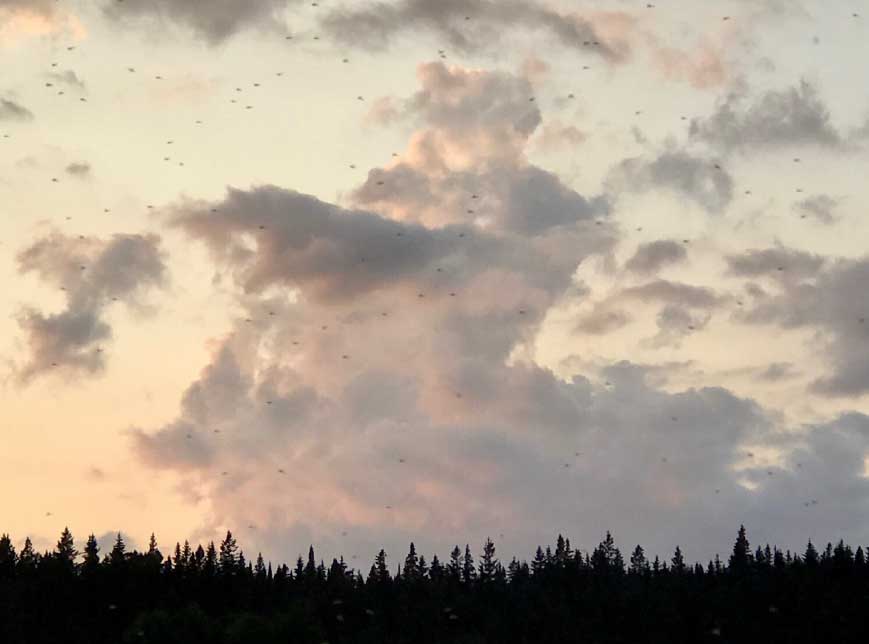 Wake up Wind
I awoke last night,
wind howling in a haunting cry,
disturbing even
my gentle house,
rattling windows,
shaking me out of my slumber,
as if to arouse me from my sleep,
as if to warn me
about complacency
and the deep deadness
that arrives
from a life of too much familiarity.
Excerpt from "Wake up Wind"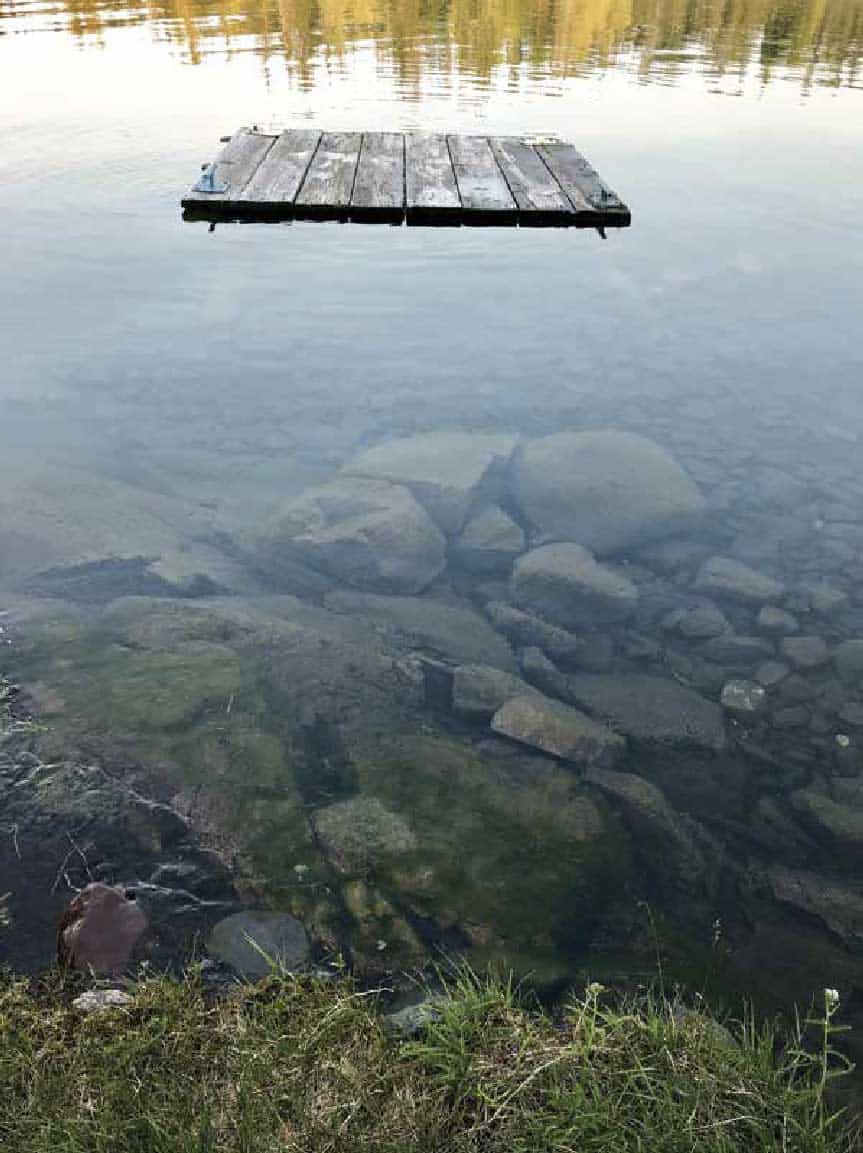 Deeper than You Think
The wade to the front dock
is deeper than you think.
You will get wet and cold.
To stand on the front dock
and celebrate the sun,
the wind,
the blue sky
and the water,
requires some sacrifice.
Leave what is dead
and time to shed.
Leave your old life behind.
Reflection:
Sometimes it is time for us to let go of a self or form of identity that is deadening us, no longer useful
to us. It might have been useful at one time and served its purpose for a while, but there are certain passages in life in which we must take to step into a new life, beyond a place where we have ever
gone before.
When we cross a threshold, , it may also be appropriate to let go of one environment, or one set of
relationships, and move into "new pastures."
What part of a previous identity or role or way of being or pattern or even external environment
is it time for you to shed?
What part of you or your life has already died but has not as yet been acknowledged by you as its time to grieve and send it along in its passing, just as the old bridge has left its dock?
Take your time with this.
Be with those questions.
Where Lake Meets Sky
Look beyond yourself.
Look first to the farthest horizon where
lake meets sky,
and then, even farther.
Take
one easy paddle toward that horizon
and notice
how the wake appears,
then disappears,
behind you.
Pilgrim,
You must not go back.
Only the open lake
in front of you
with no shoreline to mark your way.
Listen with your heart.
Your heart knows the way.
"The happy heart is true,"
St Brigid speaks.
Follow your joy.I know you can live wholeheartedly,
that you can be who you choose to be.
I know
that you can paint your life
with the palette colors of your choice.
I know that you are the author and the artist of your life.
Listen,
and paddle toward your Voice
calling to you
from across the lake,
from the endless horizon where
lake meets sky,
from the eternal
Infinite
Possibility
of All—That—Is,
the Voice that calls you by your name.
Come home to your Self.